Free Shipping on Orders Over $50 in the Contiguous U.S.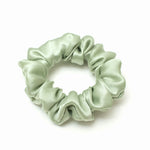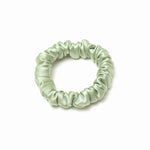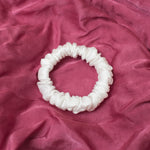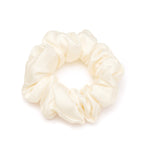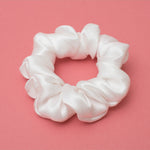 Handmade Eucalyptus Silk Scrunchie
Regular Price

$11.95

Sale Price

$11.95

Regular Price

Unit Price

per
Our locally made Eucalyptus Silk Scrunchies are hand crafted just for our Curlies, in Arcata, California, USA! They're silky smooth, and will be gentle on your curls, whether you're tucking them in for the night or styling them for a daytime updo!

Benefits of Eucalyptus Silk:
Helps to reduce frizz, breakage & tangles
Fully biodegradable
Vegan & Cruelty Free!
 Caring for your Jessicurl Eucalyptus Silk Scrunchies
To lengthen the life of your scrunchies, gently hand wash.

Fill a large bowl with cold water
Add a few drops of your favorite Jessicurl Shampoo or a mild detergent
If time allows, leave your Scrunchie to soak for up to an hour
Gently massage with your hands until clean
Rinse your scrunchie in cold water
Gently squeeze out excess water and lay flat on a clean surface to dry
Fabric Composition: 70% TENCEL™ Luxe, 30% TENCEL™ Lyocell. TENCEL™ is known for its environmentally friendly production process, and is Vegan, Cruelty Free, and Fully Biodegradable. TENCEL™ Luxe is made from the wood pulp of eucalyptus trees grown in sustainably managed forests. The TENCEL™ Luxe filaments are spun using a highly efficient closed loop production process that recovers and reuses water and more than 99% of solvents.
Eucalyptus Silk is a Sustainable Plant-Based & Cruelty Free Alternative to traditional Mulberry Silk. While it is not real silk, it has a very similar silk feel and experience and offers many of the same benefits as traditional silk.
Love this product.
I live in Florida and humidity is brutal for curly hair people. My hair feels so soft and gorgeous.
It does not get stuck in my hair a d does not make it frizzy